On this page: airfield plate, flying area map, NOTAMs, METARs and wind.
---
Visiting aircraft are welcome at Phuket Airpark by prior arrangement – just give us a call.
Overnight parking is available for fly-in visitors with light aircraft.
Please familiarise yourself with the arrival procedure.
You must be transponder equipped to enter Phuket airspace.
---
Phuket Airpark airfield plate
Click here to download an A5 PDF of the airfield plate.
---
Phuket Airpark flying area map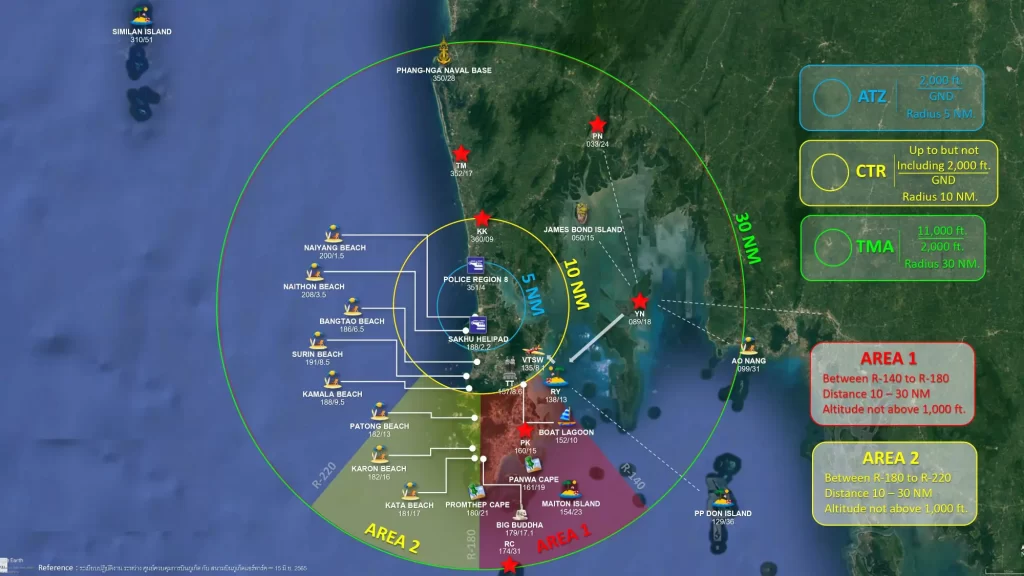 ---
VFR reporting points around Phuket
| | | | |
| --- | --- | --- | --- |
| TM | Thai Muang district | Radial 352 – 17 nautical miles | 08°23'30.0″N 098°16'00.0″E |
| KK | Baan Khok Kloi | Radial 360 – 9 nautical miles | 08°16'00.0″N 098°19'00.0″E |
| PN | Phang Nga town | Radial 033 – 24 nautical miles | 08°26'30.0″N 098°31'30.0″E |
| YN | Ko Yao Noi | Radial 089 – 18 nautical miles | 08°07'00.0″N 098°37'00.0″E |
| RC | Ko Racha Yai | Radial 174 – 31 nautical miles | 07°36'00.0″N 098°22'00.0″E |
| PK | Phuket city | Radial 160 – 15 nautical miles | 07°53'00.0″N 098°23'30.0″E |
| TT | Thao Thep monument | Radial 157 – 8.8 nautical miles | 07°58'51.5″N 098°21'50.6″E |
| RY | Ko Rang Yai | Radial 139 – 12.7 nautical miles | 07°57'23.2″N 098°26'53.2″E |
---
NOTAMs from AeroThai
---
METARs from Aviation Weather Center
---
Weather from windy.com
---